British Cast-iron Firebacks
of the 16th to mid 18th Centuries.
by Jeremy Hodgkinson
From the sleeve notes:
Firebacks began to be made in Britain in the first half of the sixteenth century. From the purely functional purpose of protecting the back of the fireplace and reflecting heat into the room, it was not long before the opportunity was taken to embellish their plain surfaces. Their decoration provides us with a reflection of the social history of the times in which they were made, whether in the heraldry of royalty and the landed class, the religious and political turmoil of the Stuart period, or the beginnings of the Enlightenment and the rediscovery of classical literature.

Illustrated with more than 300 photographs, this first survey of British firebacks sets out to explore their development and variety, and to provide interpretation, where possible, of the decoration to be found on them. The illustrations are to scale so the relative sizes of firebacks can be compared, and there is a comprehensive gazetteer with full details of each fireback shown.

Download a flyer with more details HERE

Available from Hodgers Books - Price £24.99
---
WEALDEN IRON
WIRG publishes an annual Bulletin of research, entitled Wealden Iron. The contents of these volumes are listed on a separate page as follows:

Series I (1969 - 1980): The contents of these volumes are HERE and the volumes can be downloaded as pdf files.

Series II (1981 to date): The contents of these volumes are HERE and some earlier volumes can be downloaded as pdf files. The others may be purchased as follows:


Volumes 11 (1981-1991) £1.00 (+ 50p p&p)

Volumes 12 to 21 (1992 to 2001) £1.50 (+ 50p p&p)

Note :- Vols. 5, 10, 15 & 20 have indexes.
An index for Series I and Volumes 1-20 of Series II of the WIRG Bulletin is available for £2.00 (+ 50p p&p). Series 1 is now out of print but a few copies of Volumes 1 - 9 in the Second Series may still be available.
For details please contact the Publications Officer, Brian Herbert
---
WIRG Newsletter

WIRG publishes a twice-yearly Newsletter for its members.
Here are some PDFs of recent issues:

---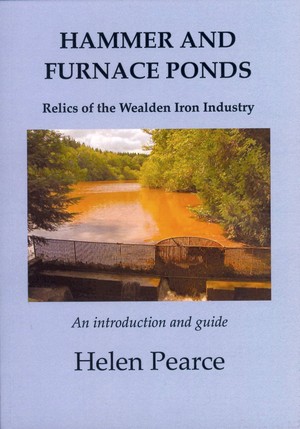 Hammer and Furnace Ponds by Helen Pearce, Pomegranate Press, Lewes, 2011; 96pp., 15 col. illus., 26 bw illus., index; ISBN 9781907242151
Back cover blurb:
They beautify the woodlands of the Kent and Sussex High Weald and adjacent parts of Surrey, but they were created to power what has been described as the country's first industrial revolution.
Helen Pearce's walker-friendly guide to the rich crop of surviving hammer and furnace ponds in the area traces the history of iron exploitation from pre-Roman times, but concentrates on the 16th and 17th centuries when the Weald throbbed to the sound of trip hammers.

The book includes:


A complete gazetteer of surviving ponds, with map references and access details


A list of museums with iron industry displays


A glossary of terms and ideas for further reading
There is an associated website HERE
---
Other Publications available from WIRG (as at 23/02/12)
Title, etc
Price by post (UK)
At meetings
British Cast-Iron Firebacks, Jeremy Hodgkinson (2010)
£24.99**
£24.99**
The Wealden Iron Industry, Jeremy Hodgkinson (2008)
£15.99**
£15.99**
Excavations of a Late 16th/Early 17th C Gun Casting Furnace at Maynards's Gate, Crowborough, Sussex, 1975-1976, 0. Bedwin
£2.00
£1.50
A Middle-Saxon Iron Smelting Furnace Site at Millbrook, Ashdown Forest, Sussex, C.F. Tebbutt
£2.00
£1.20
The Fieldwalker's Guide and an Introduction to the Iron Industries of the Weald, B.K. Herbert
£4.00
£3.50
Metallurgical Analysis of Ferrous Alloy Produced in a Primitive Furnace. R. C. D. Sampson & B. K. Herbert
A specialist publication containing optical microscopy photographs of iron produced in WIRG's experimental bloomery furnace
£5.00
£4.00
The Penhurst to Ashburnham Leat: a first foray + map (2007)
£2.25
£1.50
The Penhurst to Ashburnham Leat: a second foray + map (2007)
£2.25
£2.00
The Penhurst to Ashburnham Leat: the flow rate + graphs + maps (2007)
£3.25
£2.50
Fernhurst Furnace. Chichester District Archaeology No. 2, ed. J. Magilton
Seven different articles relating to the iron industry of the district
£14:00
£12:00
Wealden Iron, Bulletin of the Wealden Iron Research Group
CD of Series 1 Wealden Iron Bulletins, Vols. 1 to 17 (1969 - 1980), with searchable index
£6.00
£5.00
Series 2 Bulletins: - Volumes 1 to 21 (1981 to 2001)
£2.00
£1.50
Series 2 Bulletins: - Volumes 22 to 33 (2002 to 2013)
£2.50
£2.00
Note: Vols. 5, 10, 15, 20 & 25 have an index. Vols 21 onwards are separately indexed
Index for Wealden Iron, WIRG Bulletin, 1st series, Vols.1-17, and 2nd series, Vols 1-20
£2.50
£2.00
Publications are available from the Publications Officer, Brian Herbert, 1 Stirling Way, East Grinstead, EAST GRINSTEAD, Sussex, RH19 3HG. tel.01342 327 032 or email.
Please make cheques payable to WIRG (except where marked ** - payable to J.S.Hodgkinson)

---
© Wealden Iron Research Group 2000-12.